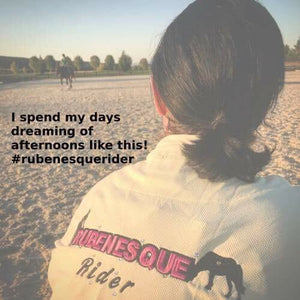 Riding In The Heat
In the saddle – in the heat

Summer can be a tough time to go riding, but long days and holidays makes it a great time to get some hours up in the saddle.  

Thankfully rider wear has come a long way from a few years ago and you get some lovely, cool things to ride in.  

The Mane Event tights are lightweight, with mesh panels and don't compromise on grip. And boy are they comfy! In summer, I won't ride in anything else. They wick away any sweat and if you are going for a nice hack to the beach or river, they dry in no time!

When competing I prefer to wear the Bella Lace Competition Shirt. I sweat like crazy on hot days, especially on my back and the lace panel adds some breathability before I pop on my jacket and head into the ring, and I love its timeless, elegant look.  

If you're heading into the ring the Fits Kimberley PerformMAX will keep you cool without compromising on style. They wick away the moisture and the power mesh keeps your lower leg cool under boots.  

So now with amazing rider wear which you can tailor to all seasons, you can look super smart, be super comfy and enjoy a super summer. Just don't forget your Rubenesque Rider cap, sunscreen and a bottle of water!  
---